Another MBMC Marlin Tournament is in the books. I would like to thank all 12 Teams and 33 Entrants for participating. Extra thank you to Billy Vitale for taking care of Tournament Control, updates, and 'On the Water' raffles.
The weather was a little bumpy, but manageable. Marlin sign was from below the border all the way up to off of Point Vicente. Kudos to the Doghouse for running the 50+ miles North to the 14 Bank. Good job. Most Teams stuck to the closer Banks/Zones.
First hookup was a Jig bite @ 8:30 a.m. on the 'Una Mas' captained by Jeff Winters.  The Jig stuck and angler Ryan Kohler took care of business before the flying gaff was sunk home by Captain Jeff Winters.  It was a nice fish that tipped the scale at 113 lbs.  That one has an appointment with the Smoke House!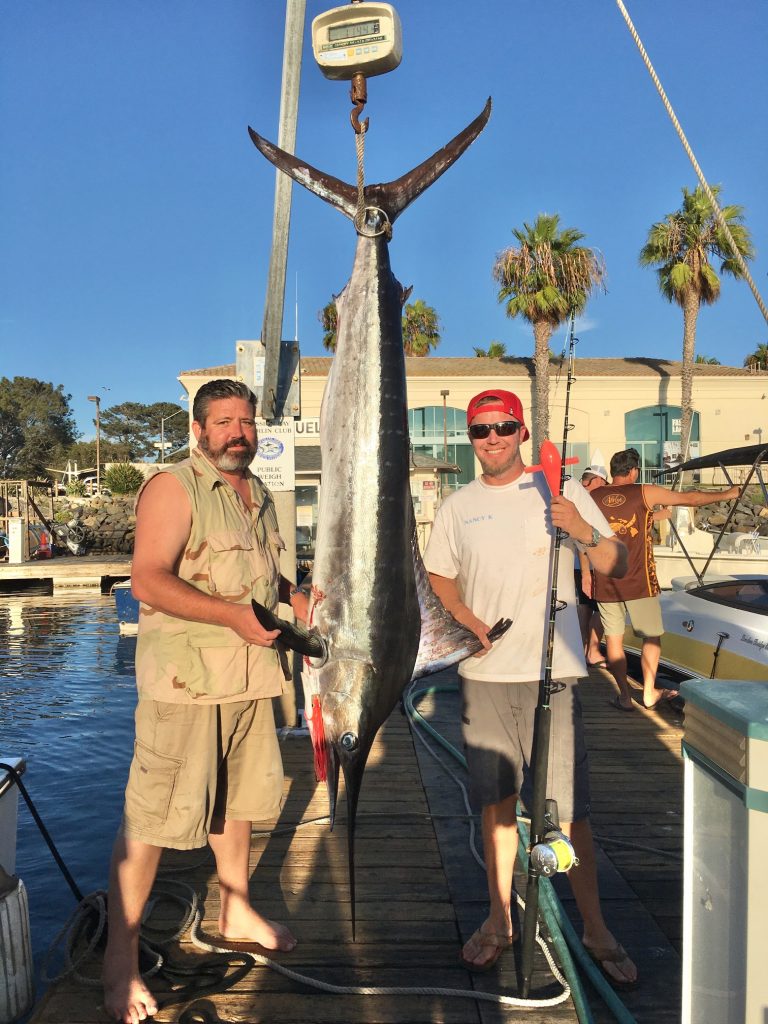 Captain Ken Yasuda on the 'Encounter' was next with a 8:45 a.m. Jig bite. That one definitely wanted the jig and stuck itself well on 80# gear. A few minutes later Alex Edwards leadered and released a nice Marlin for happy angler Kevin Yamamoto.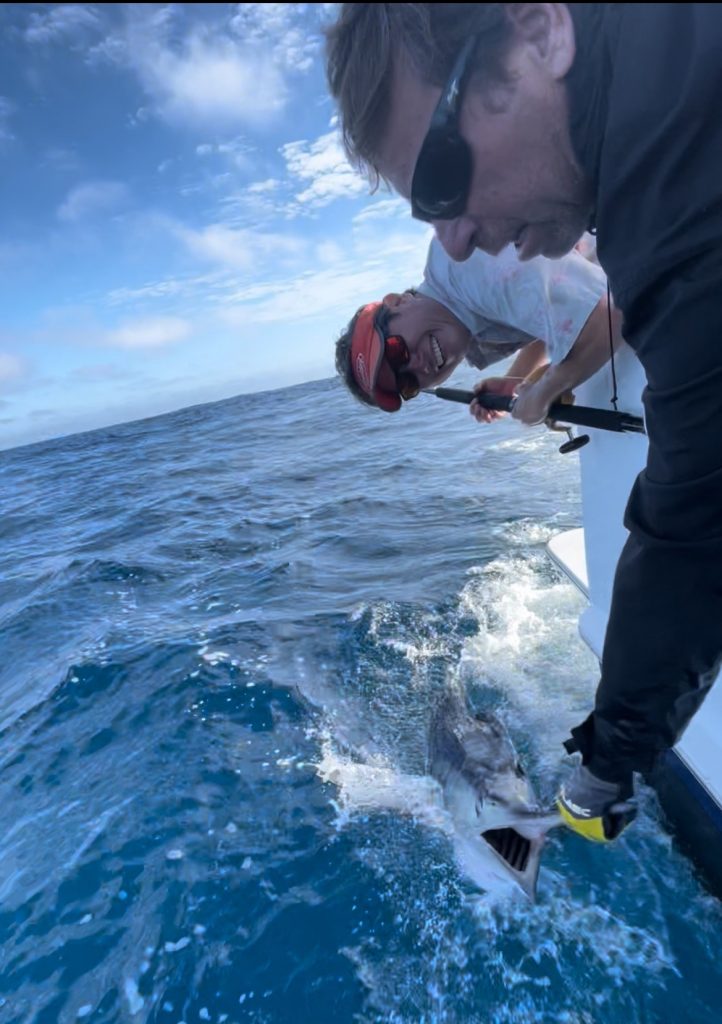 The last hookup @ 11:25 a.m. rewarded the Doghouse for their longer run. Captain Jeff Meeker gaffed the fish after angler Tim Honick subdued the nice129 lb on 50# tackle.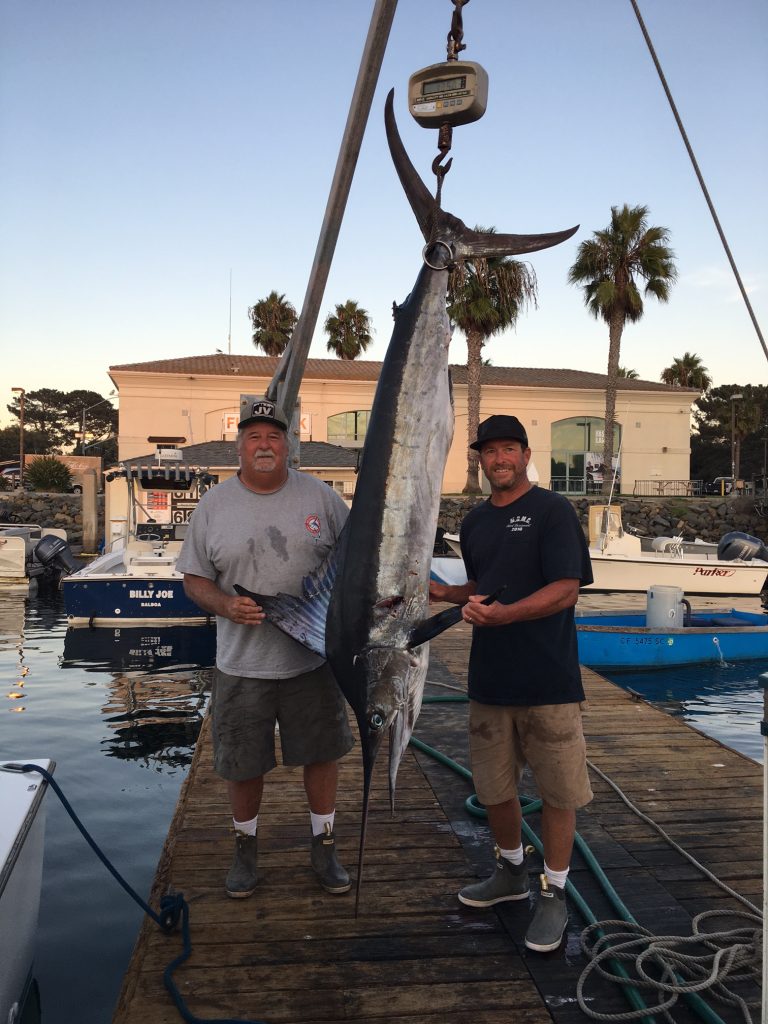 There were least one or two other "Zips" on the Jigs that didn't stick.  But that is Marlin fishing after all.  Fishy looking porpoise pods were also seen.  Surprising that no one pulled a tuna off of any of them.
The Sunday Awards Banquet at Sardina's was a fun event. Over 35 bags with great items from Spreader bars to Custom Marlin heads were raffled off to lucky anglers. There was even a hot Mad Mac lure in the giveaway! As usual, Sardina's food was great, along with the exceptional service from them. Teams had a chance to wind down and go over the previous day's fishing in style.
The lottery for Tournament Grand Prizes favored angler Ryan Kohler and team 'Una Mas' for 1st prize of $1500 , followed by angler Tim Honick and team 'Doghouse" for 2nd prize of $1000, and finally angler Kevin Yamamoto and team 'Encounter' for 3rd prize of $700. Team 'Encounter' scored again when team member Alex Edwards was drawn for the Tuna Prize of $500!
This Event would not be what it is without our generous Sponsors and Donors. They deserve a big Thank You from all of us and include the following:
John Brudvik – Frantic
Jeff & Linda Winters @ EW Trucking
Ken Yasuda with Yasuda Landscape
Dana Landing & Fuel Dock – Steve Pinard / John White
Fisherman's Landing Tackle – Doug Kern
Tim & Heidi McBride from the Sundowner (Hawaii)
Jerry Lively – Lively One
Bob & Donna Hargraves – Radar
Kenny Shilling – Joint Venture
Banquet Host Sardina's Italian Restaurant
Seaforth Sportfishing
Fishworks
Scott Paul – Tri-Dent
John Overland – No Limit
Roger Baird – Last Mango
Paul & Gloria Himmelberger – Reel Estate
Dan Muslin & Ann Thompson – To the Limit
Squidco Tackle
Bay Park Fish Company
Slugg Fishing
We would like to again thank everyone for their participation. And special thanks to the Tournament Committee and Board members whose hard work made the event such a success.
Hope to see all of this year's participants and more for the 49th Annual Event next year. In the meantime, there is still time to go out and get a Marlin before the season winds down. The water is still good, go out and get yourself a catch/release before everything cools down.
Good luck out there,
MBMC Board Memebers,
Shane Hurt, Ken Yasuda, Billy Vitale, Jerry Lively, Scott Paul, Ray Fear, & Kevin Yamamoto