---
Paul Himmelburger and Bob Smith with 108.5 Marlin caught aboard Reel Estate. Nice catch.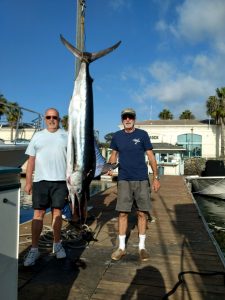 More…
Roy Lively Month Long Marlin Tournament
---
I want to take this opportunity to remind the Membership of our September Tournament.
September is synonymous with Marlin, and also the Roy Lively Month Long Marlin Tournament.
Please Check the 2017 Rules, as there is a slight change in format.
You can click on the Tournaments and Events header for specifics regarding More…
---

The 43rd Annual Charity Heart Marlin Tournament benefiting the American Heart Association and MBMC will be held September 16, 2017. Lots of warm water and fish out there, so get your entries in! Early bird entries are due in by September 8, 2017. Click here to register online OR for the PDF Entry Form.
For more information go to the Heart Tournament page. More…
---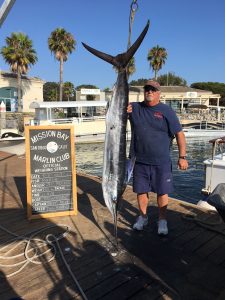 Congratulations to Capt. Jeff Meeker and Tim Honick, they have Captured the 1st. Marlin of the 2017 Season aboard "DOGHOUSE"
The fish was weighed at the MBMC Clubhouse  complete with Cannon Salute!
82.2 lbs More…
April 2017 Rockfish Tournament and FOM Results
---
Congratulations to Jeff Zachry our April 2017 Rockfish Tournament Winner.
5.4 lb Bocaccio was the heaviest fish weighed and good for the win and Fish of the Month!
Prizes are a $180 Gift Card for Dana Landing, $50 in Cash, and the Fish of the Month Reel.
May 1st. begins a New Month More…